The Support Our Troops licence plate is a way to both honour and aid the members of the Canadian Armed Forces and their families.
The majority of the revenue from the sale of these plates goes towards the Support Our Troops Program managed by the Canadian Forces Morale and Welfare Services.
This plate may be ordered for any vehicle registered in the regular passenger class. It can be ordered in our office at any time and will be delivered by mail in approximately two weeks.
If you exchange your plate at the same time you are renewing your registration, the exchange fee is waived.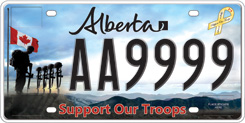 The plate's design represents the first four Alberta-based soldiers whose lives were lost in Afghanistan in April 2002.